When seeking new ideas and wisdom, most of us turn to books or written articles. But have you ever considered the power of podcasts? Despite being underrated, podcasts offer a unique and valuable way to capture wisdom and new ideas.
Books are, of course, excellent, but podcast episodes offer a different value. The podcast host is allowed to interact with the guest, typically an author of the book that you may or may not have already read. Commonly podcast episodes can be thought of as ephemeral. We listen to them on our commute to work, doing dishes, or running. We never hear them again and miss out on so many gems. Because of the reasons listed above, we must revisit the episodes that resonate with us. Our podcast players do not help with this, as they are only made to feature new content. The podcast mixtape may be the solution.
Introducing the podcast mixtape
The "podcast mixtape," a term originating from me bouncing ideas off ChatGPT, is a collection of podcast episodes from varying podcasts that all fit into a singular theme or person. I have had this idea for a while but technology worked against me. I even built my own solution, but it took a lot of work to use consistently. Then I discovered that you could do this on Spotify, and I  leaned into this idea.
An example of a mixtape I created was of leading business strategy thinker Roger L Martin. From the very first book I read by Martin, I have been fascinated with his ideas, the way he thinks, and his approach to strategy.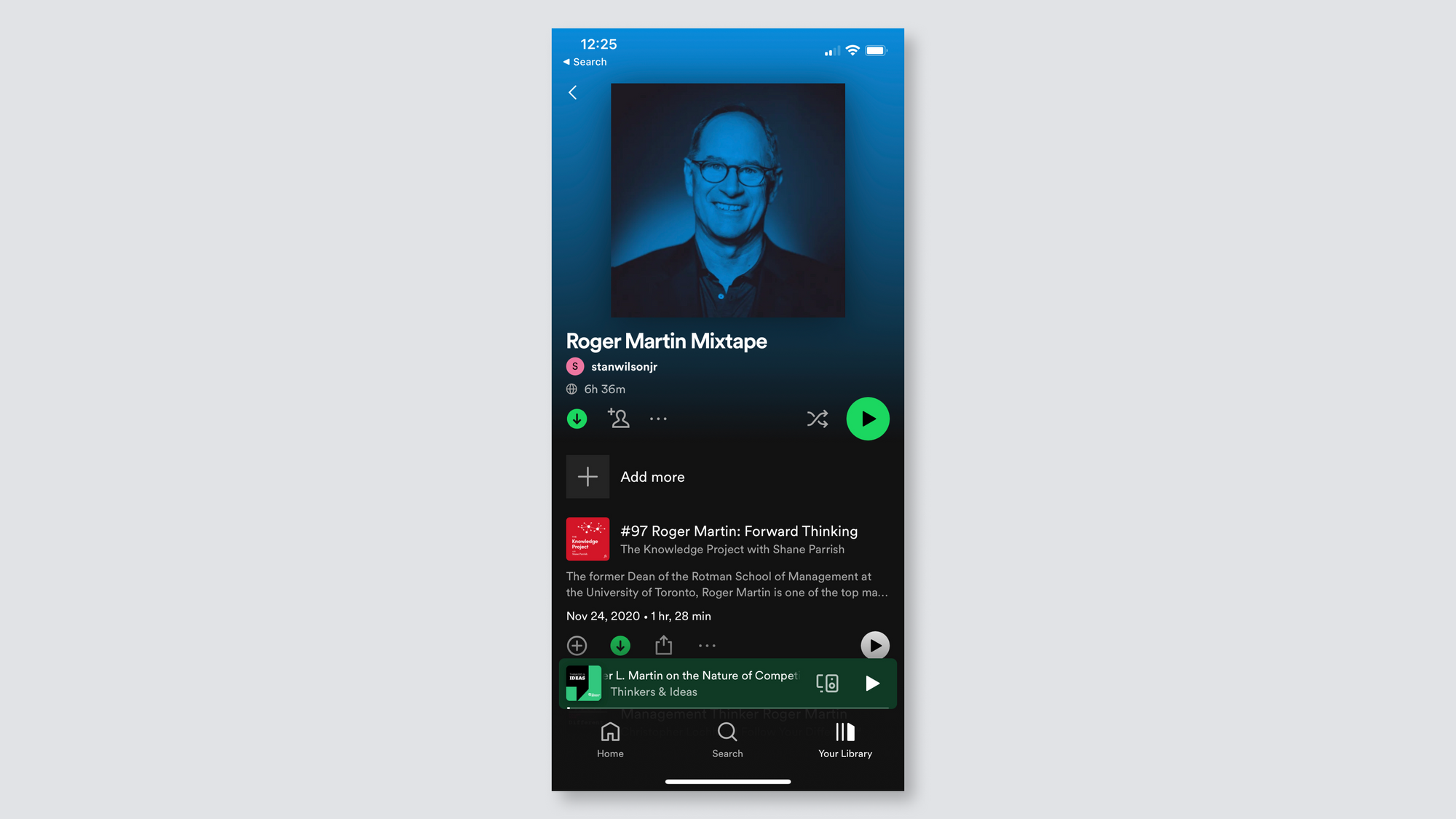 The podcast interview format is a way to see his ideas be pressure tested and extended by people asking him questions outside the scope of his books. This mixtape allows me to explore his ideas through a different prism and revisit ideas that resonated with me.
Making a mixtape
The process is simple to come up with a topic, person, or theme and search for podcast episodes within Spotify that match. Once you find them add them to a playlist like you typically would for a music playlist. If you want to take things too far, like I often do, make artwork for your mixtape. I used Duotone by Shape Factory, making the artwork for the Roger L Martin mixtape, its free and easy to use. I usually find that the more effort I put into creating anything, the higher the likelihood of using it (see effort heuristic).
Share your podcast mixtapes
If this idea connects with you and you create a podcast mixtape, share with me via Twitter DM or Mastodon . Thanks for reading. Its always fun to get these ideas out of my head into a post. I hope this was valuable for you.
How was this post?